The term "curriculum" refers to the daily opportunities for learning that you offer the children in your care. Some programs utilize a highly structured curriculum plan, and others have a very flexible and casual approach. The most successful child care providers are those who use their own interests and passions as a major part of their curriculum. Providers who love music typically offer a music-rich curriculum, and those that enjoy gardening will often incorporate that passion by offering opportunities for outdoor science through gardening experiences. Some things to consider...
How will you know what each child needs to reach his or her potential?
How can you tell if the curriculum is appropriate to meet each child's individual needs?
How can you be respectful of and responsive to children and families of different cultures?
How can you work with early intervention providers, such as therapists and educators, who may visit your home to help you serve children with diverse needs and abilities?
How can you determine whether the activities you plan for the children are developmentally appropriate?
The National Association for the Education of Young Children (NAEYC) has established guidelines that you can refer to that can help you to determine whether the activities and experiences you offer are developmentally appropriate. Visit www.naeyc.org/resources/topics/dap to view these guidelines.
The following curriculum resources offer information and tips on quality improvement, curriculum ideas, resource lending and school readiness.
Click on a title below for more information.
An experienced team of professionals are here to help you…
Our services to child care providers are coordinated through a team of staff with experience in various early childhood settings that include family child care, center-based care, preschool and Head Start programs. Our Early Care & Education Specialists provide professional development, coaching and technical assistance to early educators serving children birth to age 12. They help child care providers in easing children and families through developmental transitions, adapting the environment and materials for children with diverse needs and abilities, and much more.
We can help answer your questions and concerns about topics like:
Marketing tips for your business.
Ways to support children with behavior difficulties.
Record keeping and tax questions.
Engaging families in your program.
Organizing the space and learning materials in your home or classroom.
Developing a contract and policies for your business.
Come in and see us!
Our staff welcomes you and wants to help. You can reach our staff during normal business hours at 785-357-5171, 877-678-2548 toll free or This email address is being protected from spambots. You need JavaScript enabled to view it.. The Topeka office is open Monday through Friday, 8:00 a.m. to 5:00 p.m., with extended hours available. The Lawrence office is open every Tuesday, 9:00 a.m. to 4:30 p.m. Check the Child Care Aware® News! newsletter for extended hour days/times or call us for more information.
One Time &/or Long-Term Help
Child Care Aware® of Eastern Kansas can help with specific issues like child behavior questions, getting started in the child care business, and general business practices. We also offer a variety of longer-term options that child care programs can enroll in covering early literacy, child abuse prevention, wellness, curriculum and other topics. Call us at 785-357-5171, 877-678-2548 toll free, or email us at This email address is being protected from spambots. You need JavaScript enabled to view it. for more information.
Become a recognized Breastfeeding Friendly Child Care Provider.
This toolkit explains how to become a recognized Breastfeeding Friendly Child Care Provider. Achieving this designation shows parents and your community that your program follows national breastfeeding and infant feeding standards. It lets everyone know that you are committed to helping families give their children the best start they can – with breastfeeding!
Child care programs that complete the Breastfeeding Friendly Child Care Provider designation will:
Receive a Breastfeeding Friendly Child Care Provider and We Care for Breastfed Babies window decal. These decals let parents know that programs support breastfeeding.
Be listed on the Child Care Aware ® of Kansas website as a Breastfeeding Friendly Child Care Designation Recipient. Being a designated program is also indicated in your program profile for those parents that are searching for a breastfeeding support program.
Check out Vroom! Download the Vroom app for quick brain-building activities you can do with children ages 0-5 years. Click here to visit their website, and see some sample tips below!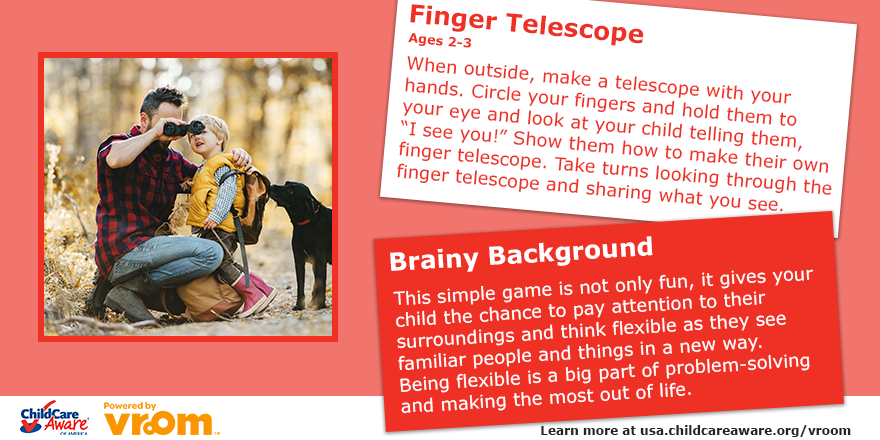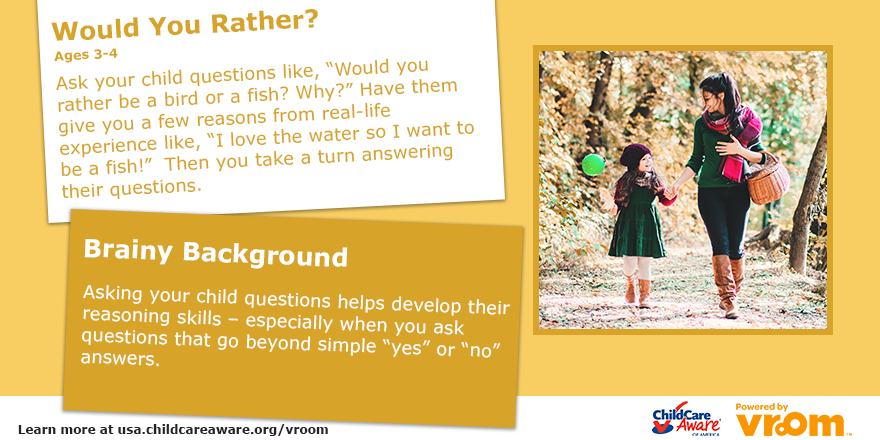 Follow us! We are constantly sharing fabulous ideas we love. Find us on Facebook, Twitter, Pinterest, and Instagram.
Visit our lending library in Topeka to check out teacher resource books, children's books, and activity totes. You can also utilize our die-cut and laminating machines.
The lending library is open during normal business hours. We also offer extended library hours on the first and third Saturdays of each month from 10:00 a.m. to 1:00 p.m, by appointment. Visit our Class Calendar for specific dates and times for our extended hours.
Items you will find in our resource lending library include:
Teacher Resource Books (Topics include everything from behavior guidance, to nutrition, patterns, activities, administration, business and child development, etc.)
Themed Activity Totes (Categorized by age.)
Prop Boxes for Dramatic Play
DVDs & CDs
Informational Brochures
Die Cut Machine
Laminating Machine ($0.50 per linear foot. Width of laminate is approximately 2 feet.)
Copy Machine ($0.05 per copy.)
Numerous studies have shown that 90 percent of child's brain development occurs before the age of 5. By making early childhood education available to all children, we take advantage of a crucial period in their development.
Studies show that high-quality early childhood programs are the BEST way to support improved academic outcomes in K-12 education. Children who attend early childhood programs are far more likely to enter kindergarten ready to learn, read at grade level by third grade, and graduate from high school and even college.
We offer programs and services to child care programs to help increase the quality of the care and education they provide for children. To learn more about these services and how your child care program can enroll, click on the Quality Improvement Programs title above.